Underground mining operations must overcome a wide range of geological challengers to ensure safe and productive operations.
We continue to focus on delivering innovative solutions that support productivity improvements and reduced risk profiles.
Our innovations include:
• Next generation bolting - UniPass
• Optimised ore recovery
• Resin injection
• Surface to seam ground support
Next Generation Bolting
Our innovative bolting technology combines leading edge and high quality, high strength products to make rock bolting safer, faster and more efficient.
The combined advantages of our self-drilling anchor (SDA) bolts and our high performance, injectable, two component bulk resin grouts create a unique offering for mining environments. Our innovative bolting range has been designed for dynamic, converging and variable rock conditions with options to replace cable bolts. We offer solutions to suit individual mine requirements and to work in with your surface
support. Whether it be static or dynamic capacity, we have a range of options for you.
Optimised Ore Recovery
Many hard rock mines have ore rich reserves, contained in unmined area's, commonly referred to as sterilised ore. With the placement of backfill adjacent to these resources, our solutions can maximise the extraction of previously sterilised ore resources, with unique and well proven products and methodologies. We offer > 18 years experience, proven application success rate, increased revenue profits and optimised control of mineral dilution.
Key benefits:
• Increased revenue from extraction of additional mineral resources
• Cost effective usage of R.O.M waste rock material
• Providing structural elements of a known strength for mine life extension
• Improved management of HSE risk
Download Round Oak Minerals Case Study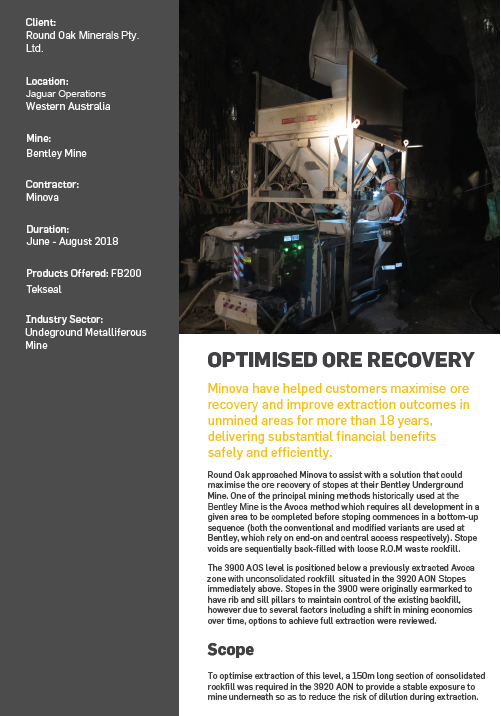 Surface to Seam Ground Support
We are the original developers of the technology for dual component long distance pumping, grouting and liquid cement systems. Our CIMA delivery system delivers grout based products from the surface to underground via a borehole or portal, and takes around 15 minutes to pump a crib. Chemicals can be pumped up to 3,000m from the surface using a variety of pumping methods. 
Key benefits:
• We offer more than 15 years global experience supplying pumpable crib technology
• We offer more than 20 years of ventilation design and installation expertise
• Maximise safety, increase efficiency and minimise labour footprint
• Pumping chemicals from the service eliminates up to 95% of activity
• Easy to set-up and relocate
• Install ventilation seals and pumpable cribs using the same equipment
Minova have successfully completed a range of surface to seam applications:
• Pumpable cribs installed in under 15 mins
• Complete ventilation plug seal (from the surface) in 4-6 hours. Rated 120psi, pumped 160m deep down a borehole and 700m horizontally to complete 6 bulkheads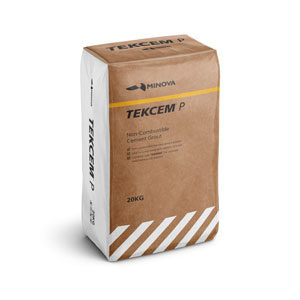 Surface to Seam Ventilation
Our team have more than 20 years' experience of ventilation design and installation (including live and engineered designs). As every mine has different challenges and requirements, our team have developed an extensive database of ventilation designs for even the most challenging applications.
Key benefits:
• We are the only contractor to have completed live explosion testing of ventilation seal designs.
• Complete ventilation plug seal from the surface in 4-6 hours using high yield grouts
• Manage accurate water ratio every time, with our CIMA surface mixing system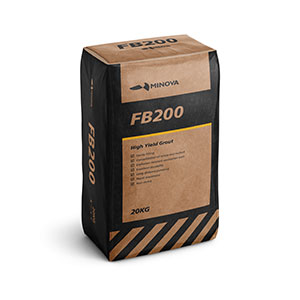 Injection Chemicals from the Surface
Pump up to 3,000m from the surface using a variety of pumping methods, eliminating 95% of activity.
Key benefits:
• Increased rate of installation and independent from diesel vehicles
• Limited transportation of materials underground
• No manual handling requirements
• Reduced manning levels
• Hosing system for quick access of different locations in the mine site (via boreholes)
• Licence held for Polymeric chemical application