Long life, thixotropic cable bolt grout for use with automated rigs.
Cable bolt grout supplied as a ready to use, free flowing, blended cementitious powder. It requires only the addition of water in a high shear mixer to produce a highly thixotropic grout. 
Uses include top down grouting, roof control and consolidation.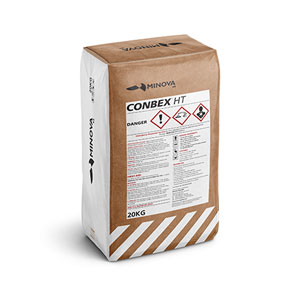 Advantages
RAPID STRENGTH GAIN
CONSOLIDATE BROKEN GROUND
EXCELLENT PUMPABILITY
Features
Rapid strength gain reduces the likelihood of bed separation or slippage of strata.
Rapid strength gain reduces down-time before drilling/blasting can recommence.
Thixotropic and can be used to consolidate badly broken ground
Non-shrink, unique expansion system compensates for shrinkage
Excellent pumpability
Economical, high strength gain at significantly lower cost compared to resin grouts
Durability, high ultimate strength and low porosity ensuring long term life
Long pot life for use with automated cable bolting rigs
| WATER : POWDER RATIO | 2 HOURS | 4 HOURS | 6 HOURS |
| --- | --- | --- | --- |
| 0.25:1 | 14 MPa | 31 MPa | 33 MPa |
| 0.3:1 | 8 MPa | 24 MPa | 26 MPa |
Compressive Strength tested @ 20 Degree Celsius using potable water
| WATER : POWDER RATIO | 1 Day | 7 Days | 28 Days |
| --- | --- | --- | --- |
| 0.25:1 | 48 | 54 | 62 |
| 0.3:1 | 36 | 40 | 54 |
Compressive Strength tested @ 20 Degree Celsius using potable water
Product Options
Conbex Hi Thix 20KG - SKU NF0000040, 12 month shelf life